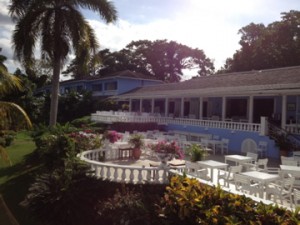 "Timeless elegance." That's how manager Mary Phillips describes her fifty-two room, upscale Jamaica Inn hotel in Ocho Rios. In fact, if you take away the wi-fi and the iPod docks, leaving just the four-poster beds, the large easy chairs, the croquet lawn, and the tile walkways, you've got the same fine hotel where some of the island's most famous visitors of a generation ago came to stay, eat, and socialize with their contemporaries.
Marilyn Monroe, Arthur Miller, Noel Coward, Ian Flemming, and other luminaries had tea, cocktails, and the finest Jamaican dining in the same patio and restaurant I did on a recent weekend getaway.
A four-day trip to the island paradise was just what the travel doctor ordered, and the leisurely, relaxing pace at the stately and meticulously manicured sixty-year old property made for the ideal holiday.
I had no problem with the proper attire requirements of long trousers and collared shirts (their words, not mine) after seven o'clock. Every afternoon tea was served at four. Each evening featured cocktails at seven. No discotheque, no t-shirt contests, and certainly no cutoffs and raggedy tees at night. Obviously, this slower pace is ideal for those couples wanting a throwback to a weekend of stately, old world charm, and vacation elegance.
An overly windy day meant a scheduled boat trip got cancelled, but the resulting change of plans took us to visit the home of the noted playwright Noel Coward. That excursion turned out to be a most pleasant of surprises.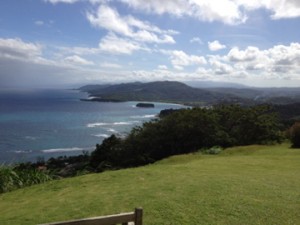 Firefly, Coward's relatively spartan house, a thousand feet up in the hills overlooking Port Maria Bay, was an amazing glimpse into the later life of the prolific writer and composer. He was knighted by the queen, and received a Tony award for lifetime achievement. After Coward's death, over thirty years ago, his former partner gave the property to the Jamaica National Heritage Trust. Since then, it had became seriously run down, so Island Records owner, and Jamaica native Chris Blackwell, stepped in and bought the place in an effort to restore it to the way it was at the time of the Coward's death. Despite his efforts, the sea air and warm weather have taken their toll on photos which are fading fast, and other objects, that are deteriorating at an alarming pace.
The items in the house included books, playbills, sheet music, and paintings by Coward. He also kept his old property (Blue Harbor) by the ocean, where his guests would stay. They would be ferried up the long and winding road to the property. These days, in addition to tours, the property can be rented for weddings and other special occasions. Another building also remains, which housed his servants, but originally was constructed by the pirate Captain Morgan, long before he sold rum. It has two-foot thick walls and special cutouts for guns.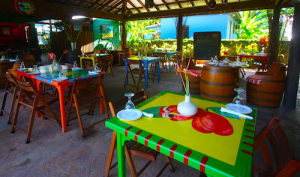 Leaving Firefly, we made our way into Ocho Rios, where we had a fabulous, traditional Jamaican lunch at Miss T's Kitchen (http://www.misstskitchen.com). that included curried goat, jerk chicken, braised oxtail, and grilled snapper. In fact, I ate snapper three times over the four days, prepared three different ways. Grilled at Miss T's, while blackened and jerk style at the hotel's restaurant. Owner Anna-Kay Tomlinson has created a charming, rustic outdoor eatery that is not far from the hustle and bustle of downtown Ocho Rios in an old "car park," as the local vernacular.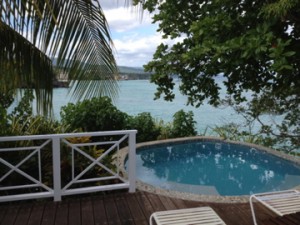 We were also fortunate enough to receive a tour of the different levels of accommodations at the Jamaica Inn, from the standard balcony suite, to the recently constructed, opulent "cottage seven," a two-thousand square foot, two-story, one-bedroom suite with a stunning ocean location, infinity pool, wood balcony, side by side indoor and outdoor showers, and an enormous first floor living room. Another amazing set of rooms was the "white" suite, featuring its own private "peninsula" – 270 degrees of ocean views, private, pool, sitting areas of secluded "lush vegetation" and another generous living room. Even the standard rooms had balconies with spacious sitting areas, and unobstructed views of the beach. It really makes the outdoors an extension of your room. The bedroom themselves are not large, but isn't the point of a beach trip, to spend as much time as possible outside?
No need for spacey new age music at KiYara Ocean spa. The treatment rooms are all open air, where the natural sounds of the crashing waves provide all the ambience you need, while receiving a wide variety of spa services. It was a treehouse-like setting, as I climbed the wooden stairs to the simple "room," with billowing curtains, and the sweet aroma of lemon oil. The massage therapists delivered an incredibly relaxing hour massage, while thoughts of work projects and story deadlines drifted away.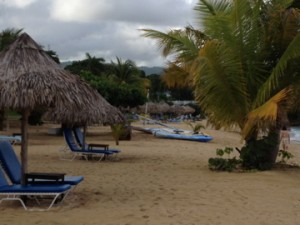 The Jamaica Inn has seven hundred feet of pristine, private beach. Drinks were at the ready, from either the beach bar, or the staff that made sure no glass remained empty for long. There were always chairs to sit in, and palapas (thatch umbrellas) to protect from the sun, which we didn't see nearly enough of, during this visit. The ocean water seemed cool at first, but after immersing myself fully, was perfectly temperate for a long, peaceful plunge in the ocean. Not bad considering it was early January. There is a modest pool beachside as well, but who needs it when you have the Caribbean to swim in?
The staff could not have been more accommodating. Like clockwork, our breakfast was served on our ocean view patio at precisely the time we asked for it. Every request was tended to. For example, we purchased some bananas from a local vendor, and the chefs whipped up a superb desert with ice cream, rum, and the aforementioned bananas. The restaurant menu offered some of the most delicious fish, meat, and vegetarian dishes imaginable. Every night was a tantalizing, multi-course, gastronomic adventure. After the first evening, I figured out that I had to order a salad, and or a soup, and usually an appetizer, lest I wait hungrily for my main course. As noted previously, snapper was my degustation of choice every night but one, when a craving for steak usurped the desire for fish.
Mary Phillips was the consummate host, going from table to table at cocktail time, ensuring that every single guest is being taken care of. She joined us one night at dinner and regaled us with stories of some of the island's more notable residents, whom she knows, such as Jamaica's newly elected Prime Minister, Portia Simpson Miller.
Charming, delightful, and energetic, Ms. Phillips epitomizes everything that is great about Jamaica, and the wonderful hospitality at the Jamaica Inn.
Full disclosure: my wife, a travel agent was a guest of the hotel for the weekend. I got to tag along, and was so impressed with what I experienced, that I wrote this story.