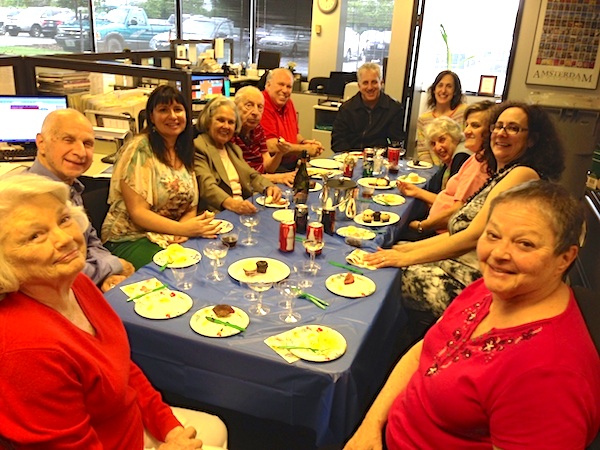 Judy Louis
In the industry since: 1968
Area of expertise: Multi-generational family cruising,  Unusual destinations, soft adventure, Argentina, Buenos Aires, Mendoza Igauzu Falls, Kiev, Moscow, St. Petersburg, Israel
Favorite vacation spots: The Antarctic ….India…South Africa ..Botswana and Nambia, Israel
Comments: The world has much to offer travelers and I would be pleased to assist in your exploring and enjoying your travels as much as my family and I have.
---
Ann Geraci, CTC
In the industry since: 1972
Area of expertise: Italy, France, UK, Group faith-based travel in Israel and Italy, and winery visits and tastings in Italy, Private art collections.
Places you have recently visited: Texas, Italy, Sicily, Normandy, British Isles.
Favorite vacation spots: Sardinia, Lake Como, Orvieto, and the Texas Hill Country.
Comments: A visit to the Normandy Invasion Beaches should be on every American's agenda.
---
Jennifer Leventhal
In the industry since: 1986
Area of expertise: family travel with children of all ages; soft adventure; independent travel in Europe and romantic getaways
Places you have recently visited: Italy, Las Vegas, London, Greece, Turkey, United Arab Emirates, Spain
Favorite vacation spots: The Galapagos, England, Costa Rica, Alaska
Comments: I enjoy getting to know my clients so I can tailor their trip to meet their needs and enjoyment.
---
Heidi Zielke
In the industry since: 2000
Area of expertise: Honeymoons, Germany, island destinations, rail trips
Places you have recently visited: Ireland, Philippines, Cuba, Europe, Greece, Turkey
Favorite vacation spots: Always changes, but Costa Rica is a favorite; any beach
Comments: Bavaria Ambassador, Philippines Pearl Specialist, Apple Vacations Specialist, European Quartet (Czech Republic, Hungary, Poland & Slovakia,) Hyatt Travel Specialist, Berlin Specialist, Chile Destination Specialist, Italy Specialist.
---
Ron Snyder
In the industry since: 2002
Area of expertise: Private and group tours in Europe, Asia, Africa and South America as well as cruise travel anywhere in the world.
Places you have recently visited: Russia, China, Southeast Asia, Hawaii, United Kingdom and Italy.
Favorite vacation spots: Almost anywhere in the world.  The experience of travel is always exciting.
---
Wilma Behr
In the industry since: 1979
Places you have recently visited: Riviera Maya
Favorite vacation spots: Cabo San Lucas, Southern California
---
Dick Lazar
In the industry since: 1963
Area of expertise: Cruises and tours (much tauck and Apple) and private independent foreign itineraries.
Places you have recently visited: Vietnam, Thailand, Cambodia, Japan, Morocco, Spain, Germany, Poland, Hungary, Romania, Danube Cruise through eastern Europe, France, Italy, Greece, New York, Utah and California.  More coming up.
Favorite vacation spots: Always something else on my mind; sometimes old places, and sometimes new
Comments: At Sentinel, our great strength is the sharing of knowledge and experience that we all have, plus our wonderful foreign operators who we work with.
---
Howard Spieler
In the industry since: 1979
Area of expertise: Corporate Domestic/International Travel
Places you have recently visited:
Favorite vacation spots:
Comments: We understand and are capable of addressing the complexities of Corporate domestic and international travel.  Our innovative and individualized services help maximize all travel options thus reducing travel costs and achieving increased control of an organization's travel budget.  We have successfully orchestrated both individual and corporate travel, multi-city group tours and road shows.  Our experience with this type of travel includes international and domestic venues.  Our  goal is to deliver the most suitable corporate and leisure related travel services for our clients with exceptional service and uncompromising standards.
---
Marcia G. Schneider
In industry since:  2006
Areas of expertise:  Russia, China, Italy, France, Germany, South East Asia, , Cruises
Places recently visited:  Croatia, Canada, New England,  Santa Fe, Albuquerque, Carolinas, New Orleans
Favorite vacation spots:  India, Morocco, Kenya,  Tanzania
Comments:  So lucky to have traveled thoughout the world, mingle with the locals, find great restaurants which I love to share with our clients/friends, and learn that not all we read is accurate.
---
Bill Rubinstein
In the industry since: 1987
Places you have recently visited: Boston, Miami, Mexico, Caribbean, Las Vegas, Charleston
Favorite vacation spots: Hawaii, Italy, Puerto, Vallarta, Aruba
Comments: Areas of expertise: Family travel, groups of all sizes, cruises, and vacation packages
---
Stacey Cohen, Social Media Coordinator
In the industry since: 2016
Places recently visited: Punta Cana, Dominican Republic; Naples, Florida; San Diego; Vail, Colorado
Favorite vacation spots: Sydney, Australia; Florence, Italy; California; anywhere warm!
Comments: I love to travel, especially to places that have beautiful scenery and delicious food. I like a mix of relaxation and adventure and recently went zip lining in Colorado for the first time. On my bucket list would be to travel around the world on Abercrombie & Kent's private jet, making sure an African safari was on the itinerary.
---
(In memory of:) Patricia Piacente, CTC
In the industry since: 1967, our beloved travel expert passed away in November 2018
Her Area of expertise was: Cruises, Australia, New Zeland, South America, Europe, Africa, Antarctica, Asia
and her favorite vacation spots were: Australia, Buenos Aires, Botswana, Shanghai, Cambodia, France.  She loved to cruise, enjoy Silver Seas, Regent, Azamara, aw well as visiting her native Australia.
RIP – Patti